About Us
Testimonial
"We wholeheartedly recommend Lakeshore to all colleagues and associates as the "Full Service Package Deal." Our lawn and shrubs are maintained with dedication and passion. Winter snow plowing and removal is always done on time no matter what the conditions."

Facilities Manager,
Village of Mt. Pleasant
OUR MISSION
The mission of Lakeshore Lawn and Landscape Service is to offer our clients a range of services and budget-minded solutions that are attractive, practical and efficient. We take pride in our work and commit to performing property maintenance to be proud of year after year.
We recognize every opportunity is a living and growing testimonial of our workmanship. We endeavor to develop long-lasting relationships by consistently exceeding
client expectations.
Above all, we believe that all business is built upon the principles of performance, integrity and the highest of business ethics.
OUR HISTORY
Since its inception, Lakeshore Lawn and Landscape Service (owned and operated by Saul Monarres) has been dedicated to seperating itself from the industry through high standards.
I enjoy all aspects of this business and working with our clients every day, which is why you won't talk to account managers or supervisors. Lakeshore Lawn and Landscape separated itself from the competition by providing exceptional service and developing long term relationships with all of our clients.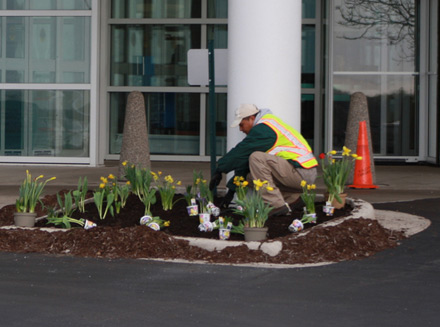 We have grown steadily over the past 10 years into a firm offering broad-based landscape maintenance services in Racine, Kenosha, Milwaukee, and Walworth counties. Our principles of performance and consistency have been the foundation of our success. We work with distinction to handle not just maintenance, but respond rapidly to our client's needs. Today, we work with local government facilities, financial institutions, condominium and home owner associations, builders, hospitals, and commercial property owners to provide complete management and care.
Lakeshore Lawn and Landscape Service offers the manpower and equipment to complete all projects, and the ability to subcontract specialty needs. As owners, we are always learning and educating our trained crews to produce and sustain properties that are healthy and attractive.
The result is a well-established firm with an enviable reputation for stability, reliability and superb service. Lakeshore Lawn and Landscape Service delivers what it promises – total client satisfaction and the ability to exceed client expectations.