Residential
Property Maintenance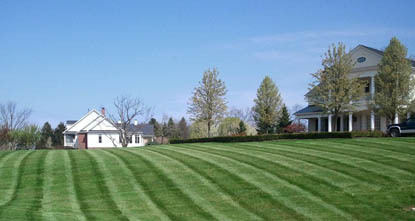 Lakeshore Lawn and Landscape Service LLC has focused on establishing relationships with home owners with large acreage. We find ourselves to be very fortunate to be in this position and provide a variety of services. Our maintenance services and programs fulfill the actual needs and expectations of our clients, as well as protect the investment they have made in their property.
Our residential property maintenance includes all the traditional maintenance services including spring and fall clean-ups, mowing of turf, turf fertilization and weed control. Our trained crews pick up and dispose of any debris, mow in alternating patterns, trim all edges and area cleanup. We also offer bed edging, tree and shrub pruning, tree and shrub replacement, stone and mulch installation and core aeration of turf.
We strongly believe that a landscape that's carefully maintained enhances the value of any property. Maintaining a magnificent landscape requires a program of maintenance that's consistent and responsible from an acknowledged professional.
Testimonial
"We switched to Lakeshore Lawn and Landscape Service and have not been disappointed. We just renewed another multi-year contract."

Property manager, Caledonia